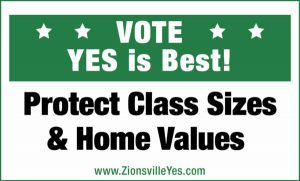 Regardless of the persons you vote for, I am hoping you will come out and vote on Election Day, as passing the two school referendums calls for a strong voter turnout to show our support of sustaining the excellence of our Zionsville schools.
Without these referendums passing, Zionsville schools could face a near future of oversized classrooms, underpaid teachers and a decline in school infrastructure.
The two referendums are intended to safeguard our students and teachers, maintain current class sizes, keep our schools competitive and protect every homeowner's property value.
While I certainly welcome you to vote for me as an At Large member of the Zionsville Town Council, you voting for the two school referendums on this election's ballot is very important to all of Zionsville.
You can find out more about the referendums here: www.zionsvilleyes.com